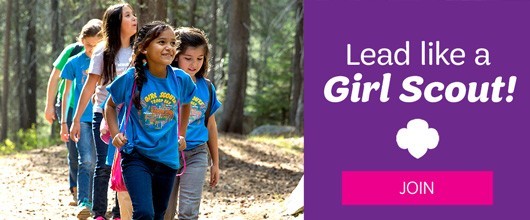 When you unleash your inner G.I.R.L., you can accomplish anything!
At Girl Scouts, the next opportunity to stand up, speak up, and take the lead is never far away. With us, you'll discover the G.I.R.L. (Go-getter, Innovator, Risk-Taker, Leader)™ in you, and watch her shine, again and again.
Will you find a sustainable solution to a problem in your community? Will you explore the great outdoors? Build a robot? Learn to code? Conduct an experiment?
With us, the possibilities are truly endless. Discover all you can be and everything you can accomplish when you have the right tools and a safe space to shine—and work together to change the world. 
So what are you waiting for?
 
Need to know more so you can decide what's right for you? Check out all the different ways to take the lead at Girl Scouts. Or, see all the exciting possibilities Girl Scouts offers for girls of all ages and choose your adventure.
How does it work? 
Troops typically meet weekly or bi-weekly for an hour or two. Hand-in-hand with adult volunteers—often parents or caregivers—girls select exciting hands-on activities and projects, try new things, go on outings, and cheer each other on. While they learn about STEM, the outdoors, entrepreneurship, and important life skills, they're also discovering new ways to make your family and community stronger, kinder, and better for everyone. Together, they earn badges to reflect their successes and show the world what they're made of.
How can you get involved? 
Your local council will be so excited to welcome you and your girl! Whether you want to start a new troop for your girl and her friends, join an existing troop, or have questions, contact us! We're here for you!