To better serve our girls and volunteers, the Hattiesburg office will be moving to a new, more centralized location.  The move will occur the first week of October and the new office will be open on Monday, October 7th!  The last day to spend cookie dough is Monday, September 30th.  To facilitate girls who miss this final opportunity, the Hattiesburg office will offer girls the option to come in and spend their cookie dough on Monday, October 7th.  This special opportunity applies to the Hattiesburg office only.  Stop by and see us at 110 S. 37th Avenue, Suite 10, Hattiesburg.
Continue >

Starting in childhood girls are inundated with negative messages and behaviors that prevent them from building healthy relationships and ideals about their potential.
Girls keep these unhealthy ideals and relationships as they mature into women.
The competition and comparison formed on the playground and in the classroom carries over to the boardroom and in the home, preventing women from reaching their fullest potential.
Let's create a world where all women and girls are appreciated for their talent, strengths and uniqueness.
We invite you to join the movement and #StandBesideHer so every girl and woman can reach her fullest potential.

Continue >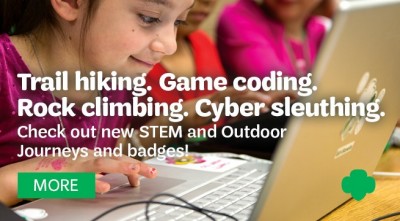 Girl Scouts reveals 42 new badges exclusively for girls in grades K–12 that allow them to make their own choices about how they want to experience and influence the world. The badges enhance the organization's existing girl-led programming, offering girls everything from adventuring in the snow or mountains to learning how to use coding to solve problems they care about. Girl Scout programming has long promoted independent decision making, which helps girls develop agency, challenge themselves to move beyond their comfort zones, and build confidence in their leadership abilities.
Continue >