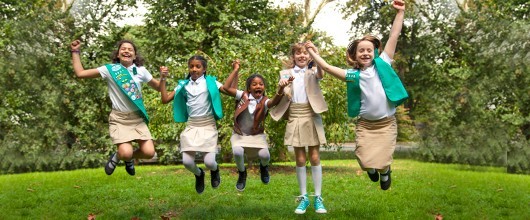 Our Traditions
Girl Scouts' birthday, March 12, commemorates the day in 1912 when Juliette Gordon Low officially registered the organization's first 18 girl members in Savannah, Georgia. Girl Scout Week is celebrated each March.  Girl Scouts and their family members can take part in Girl Scout Week by participating in a different activity each day.
Sunday, March 8 Girl Scout Sunday is a special day dedicated to thinking about your beliefs and how they're reflected in the Girl Scout Law. Think of the things the two have in common and share your thoughts with others.
Monday, March 9 Perform an act of kindness. Whether you pay for a stranger's cup of coffee or visit an elderly neighbor, every bit of positivity Girl Scouts put out there helps make the world a better place.
Tuesday, March 10 Advocate for a cause. Share on social media an issue you're passionate about and what you're doing to make a difference. You've got this, Girl Scout!
Wednesday, March 11 Get out your green gear—it's Girl Scout Spirit Day! Whether you sport a Girl Scout tee under a blazer at the office or rock a trefoil sweatshirt at the gym, let everyone know you're a G.I.R.L. at heart.
Thursday, March 12 It's Girl Scouts' 108th birthday! Honor the Girl Scout Movement by giving a big shout-out to your Girl Scout sisters! Whether you tag other Girl Scouts on social media or get creative and make a card or gift for a Girl Scout in your life, don't be bashful about sharing the love.  Take pics and post on FB using #happy108thgirlscouts
Friday, March 13 Kick off the weekend by giving back to your community. Could the local park use a cleanup? Does the food bank need volunteers? As always, the best person for the job is a Girl Scout!
Saturday, March 14 Besides reflecting on your beliefs and how they're echoed in the Girl Scout Law, we urge you to take some time this Girl Scout Sabbath to learn something new about someone else's faith.